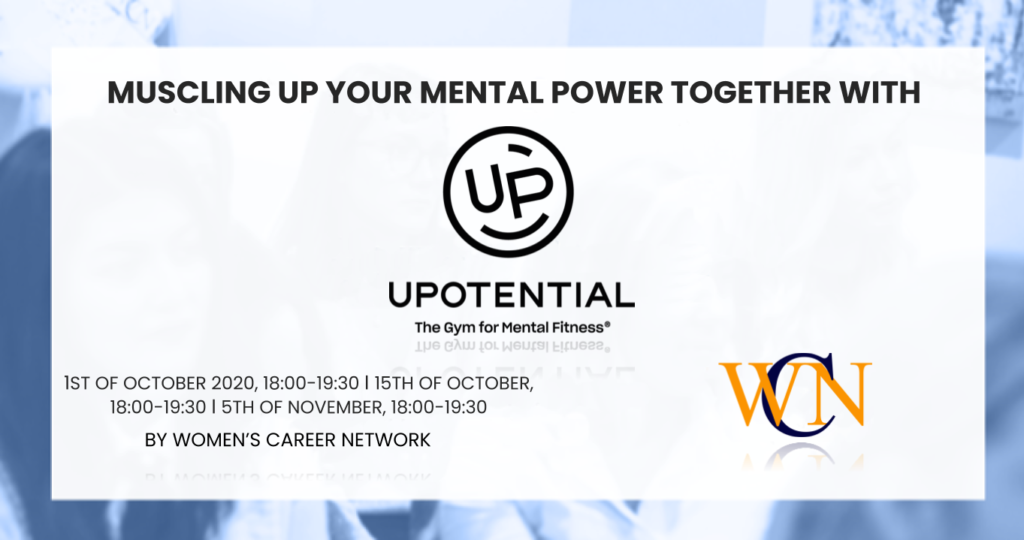 Women's Career Network welcomes our members to UPotential on 1 October, 15 October and 5 November.
Muscling up your mental power together with UPotential!
You will get the opportunity to try mental fitness training at the gym for mental fitness, a place where you proactively train your brain and mind to reach your dreams, go for your goals and connect with your inner self. Upotential unites curious and driven people from all over the world with their science based program developed to strengthen your mental muscles and prepare you for challenges and opportunities in career and life.
This is a serie of mental workouts, covering three topics:
Mental workout #1: "Snapshot your life", will help you map up your current state and get a deeper understanding of your overall life.
Mental workout #2: "Overcome your mental barriers", will teach you how to recognize and handle thoughts, emotions and behaviors in uncomfortable situations.
Mental workout #3: "Traveling in time", will teach you how to analyse your perception on different subjects and how they change over time due to beliefs, experiences and mindset.
Please note that the event will be held in English.
When? 1st October, 15th October and 5 November, 18:00 – 19.30
Where? Zoom. A link to the zoom-meeting will be sent out per email before the event.
All our female members are welcome to this event and no previous knowledge is required. A warm welcome – we look forward to seeing you.
Sign up for the event below. The places are limited for female law & business students, first come first served. Please note that you will receive a confirmation if you get a place at the event and that the confirmation may take a couple of days to receive. If you have any issues with signing up, contact us at event@womenscareernetwork.com.