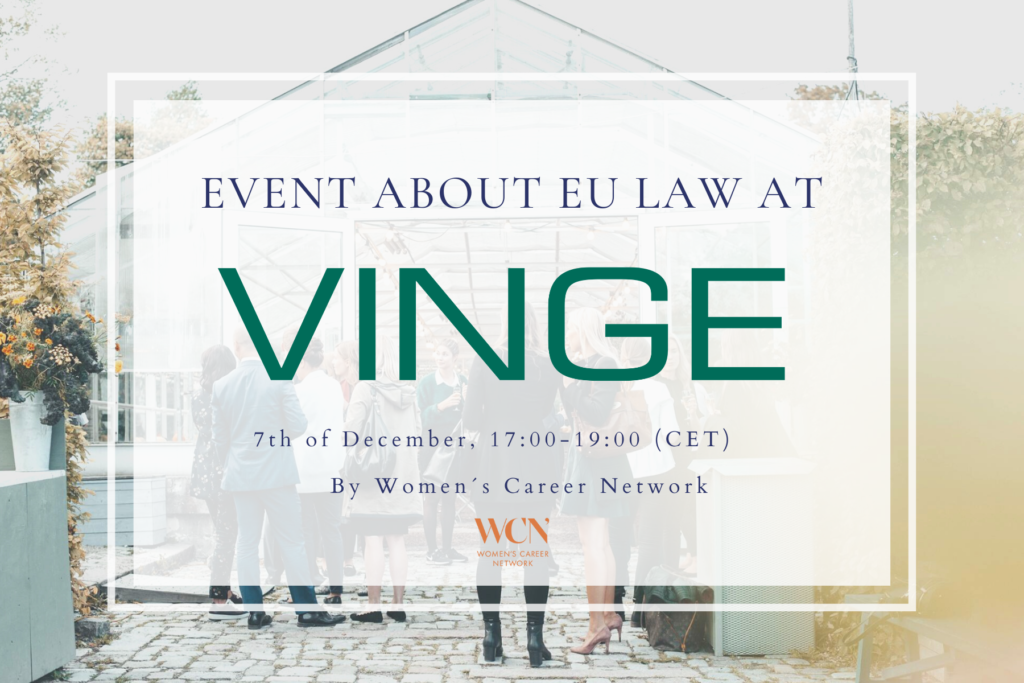 WCN warmly welcomes you to an event together with Vinge about EU law at their office in Stockholm on the 7th of December between 17:00-19:00.
Vinge is one of the Nordic region's leading law firms with 450 employees and offices in Stockholm, Gothenburg, Helsingborg, Malmo and Brussels. During their 35 years in business they have built a wide, deep and leading expertise in all areas of business law.
Take the opportunity to learn more about how it is to work with EU law at a law firm during an evening with Vinge. As the firm has an office in Brussels their lawyers work closely with the EU legislative and judicial bodies. The evening will begin with a lecture about EU law given by Sebastian Örndahl and Victoria Fredén who both work in the EU-and competition law group at Vinge. The lecture is then followed by a digital tour of their office in Brussels. The evening will end with good food and drinks and mingling together with lawyers from Vinge.
Vinge will provide for transport to and from Stockholm for students located in Uppsala. The transport (bus, taxi or similar) will depart around 15:45 from Trädgårdsgatan 1, Uppsala.
Hurry to register as the places are limited! In the event of a shortage of places, people who have completed term 4 and higher will be given priority. The last day to register is the 30th of November.
When? Wednesday 7th of December, 17:00-19:00.
Where? Smålandsgatan 20, Stockholm.
Please note that the event will be held in Swedish.
Sign up for the event below. The places are limited for female and non-binary law & business students, first come first served. Please note that you will receive a confirmation if you get a place at the event and that the confirmation may take a couple of days to receive. Also make sure to check your junk mailbox if you have not received any confirmation. If you have any issues with signing up, contact us at info@womenscareernetwork.com.