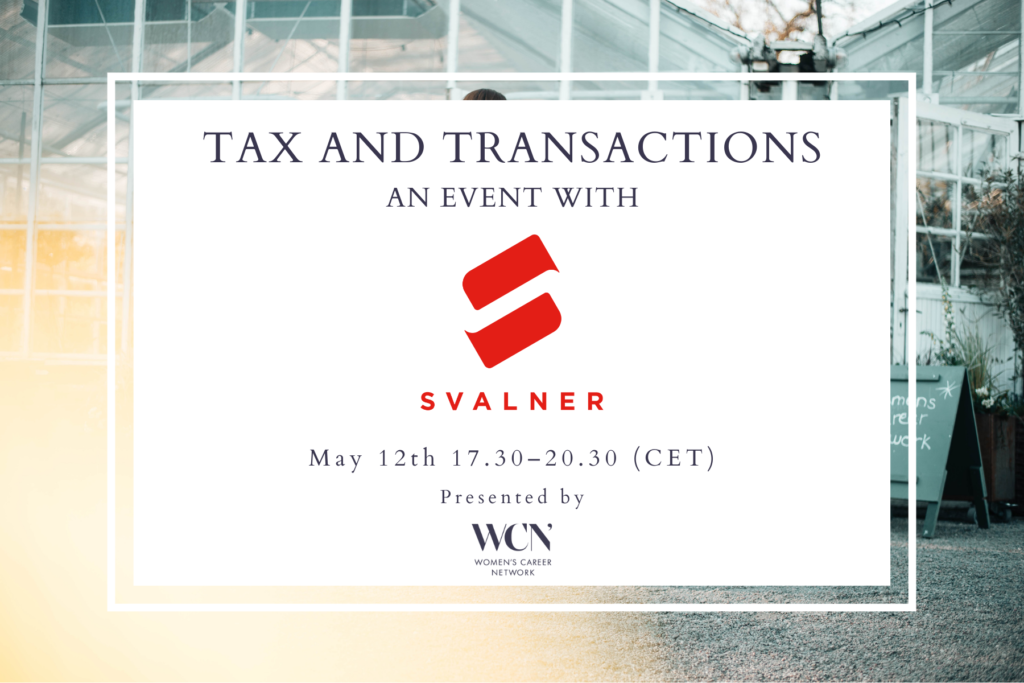 Women's Career Network warmly welcomes you to an event about tax and transactions together with Svalner!
Svalner is a firm specialized in tax and financial transactions. They work with corporate taxation and indirect taxes, as well as with financial advice in the fields of real property, close companies, banking and finance, M&A and private equity.
During the event you will hear about Svalner, the different roles within the company as well as their work with tax law, accounting and transaction services. After the seminar we will enjoy lighter food and drinks at their roof terrace, and you will be able to mingle with associates from Svalner.
This event welcomes both law and business students.
When? Thursday May 12, 17:30-20:30
Where? Svalner's office at Smålandsgatan 16, Stockholm
Please note that the event will be held in Swedish.
The places are limited for female and non-binary law and business students, first come first served. Please note that you will receive a confirmation if you get a place at the event and that the confirmation may take a couple of days to receive. Also make sure to check your junk mailbox if you have not received any confirmation. If you have any issues with signing up, contact us at info@womenscareernetwork.com.
Please note that the registration is binding due to a limited number of spots at the event. If you get a spot and don't show, you will not be able to sign up for other events. If you are prevented from attending the event, please send an email to info@womenscareernetwork.com.