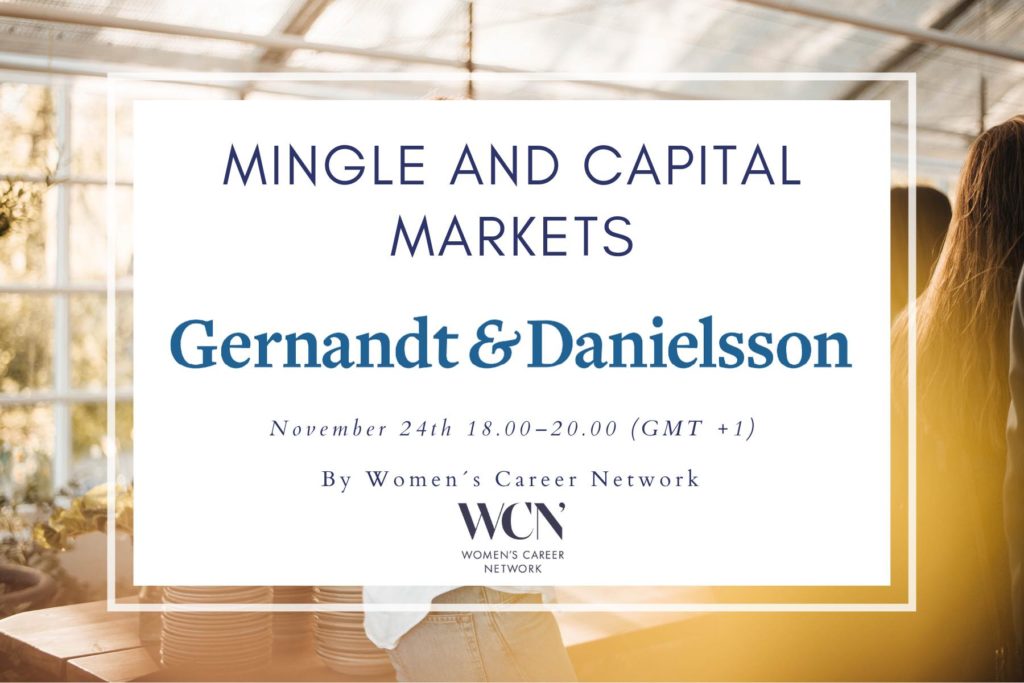 WCN warmly welcomes you to an event about Capital markets together with the law firm Gernandt & Danielsson at their office in Stockholm on the 24th of November between 18:00-20:00.

Gernandt & Danielsson is a legal firm located in Stockholm which was founded in 1992. The firm provides commercial law advice to large and medium-sized Swedish and global clients, with a special focus on capital markets. Gernandt & Danielsson has acted as legal adviser in some of the largest and most complex transactions and disputes ever seen in Sweden.
In September this year, 950 companies were listed on the Stockholm Stock Exchange. This makes Sweden the largest stock market in Europe, and there are no signs that this development will slow down.
Take the opportunity to learn about Capital markets, and the sub-moments of an IPO, during an evening with Gernandt & Danielsson at their beautiful office on Hamngatan in Stockholm. The evening will begin with a lecture given by Caroline Jägenstedt Wikman (partner), Erika Olofsson (senior associate) and Matilda Wallén (associate) on capital markets. The lecture is then followed by mingle with food and drinks. Gernandt & Danielsson will provide a bus to Stockholm.
Hurry to register as the places are limited!
When? Wednesday, the 24th of November between 18:00-20:00. (Swedish time)
Where? Hamngatan 2, Stockholm.
Please note that the event will be held in Swedish.
The places are limited for female and non-binary law students. Please note that you will receive a confirmation if you get a place at the event and that the confirmation may take a couple of days to receive. Also make sure to check your junk mailbox if you have not received any confirmation. If you have any issues with signing up, contact us at
info@womenscareernetwork.com