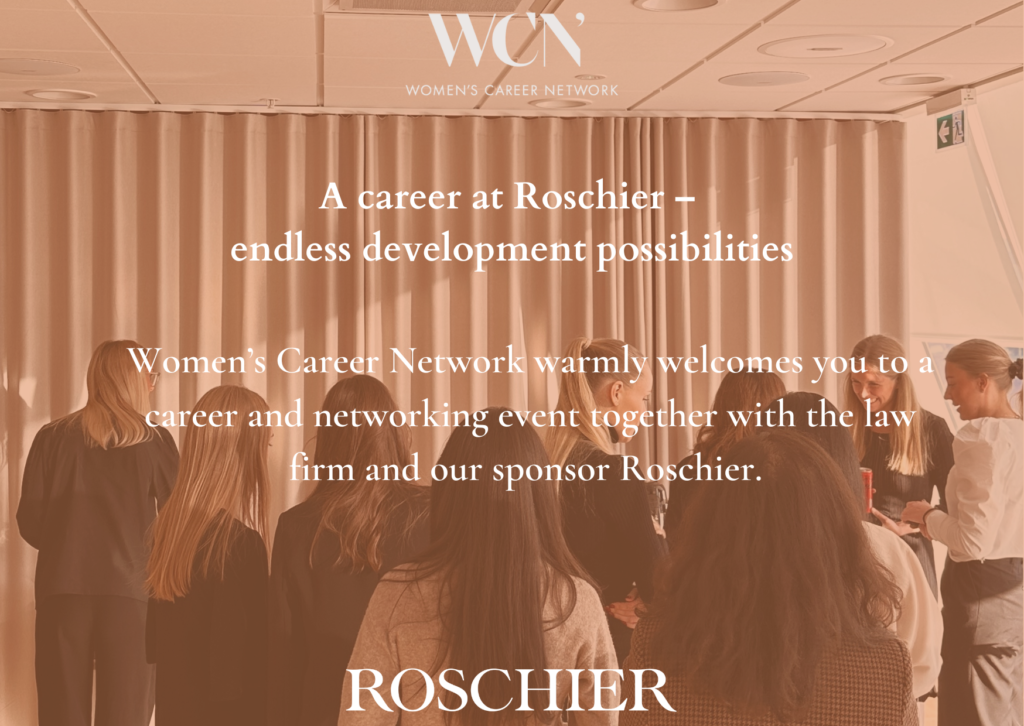 Women's Career Network warmly welcomes you to a career and networking event together with the law firm and our sponsor Roschier.
Roschier is one of the leading law firms in the Nordic region with offices in Helsinki and Stockholm. The firm has approx. 500 employees in Finland and Sweden. With a vast network of established relationships with leading law firms, Roschier is internationally recognized as top tier in all of its core practice areas.
During the event you will get an insight into the work at Roschier and the different career opportunities offered. A panel consisting of both senior and junior lawyers will share their experiences from working at a business law firm. They will discuss topics, such as development possibilities, secondments, the international aspect of the business, and Roschiers pro-bono work. The panel will also answer your questions about the work at a law firm and we encourage you to prepare questions beforehand. After the panel discussion there will be plenty of time to mingle when we enjoy a dinner buffet at Roschier's Sky Lounge with a beautiful view over Stockholm.
Roschier will arrange a joint transportation for students from Uppsala. WCN will contact you with further information after the registration for the event has closed.
Please note that students studying semester 4 or higher have priority for the event.

When? Wednesday, 29th of March, 17.30-21.00
Where? Brunkebergstorg 2, Stockholm
Anmälningsformulär: https://forms.gle/VHLkWSHqnE6Zsjgu9
Please note that the event will be held in Swedish.
Food will be offered during the event. If you have any specific food preferences or allergies, please let us know when signing up. No later than one week before the event.
The places are limited for female and non-binary law students, first come first served. Please note that you will receive a confirmation if you get a place at the event and that the confirmation may take a couple of days to receive. Also make sure to check your junk mailbox if you have not received any confirmation. If you have any issues with signing up, contact us at info@womenscareernetwork.com.
Please note that the registration is binding due to a limited number of spots at the event. If you get a spot and don't show, you will not be able to sign up for other events. If you are prevented from attending the event, please send an email to info@womenscareernetwork.com.