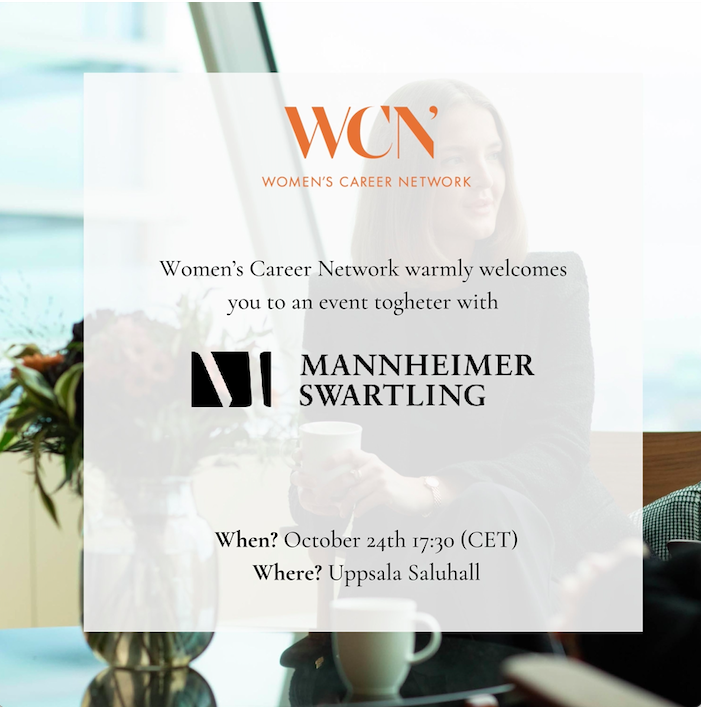 Women's career network welcomes you to an event together with Mannheimer Swartling!

Mannheimer Swartling is one of the leading business law firms in Sweden. Over the years, the firm has cultivated a team of distinguished experts, renowned for their profound knowledge across various domains of business law.

During the event you'll have the opportunity to have your questions answered by a panel of junior and senior lawyers as well as partners from various practice groups. Take the chance to ask them about their "journey" at the firm, valuable tips on how to make you stand out in an interviewing process and the unique business model "Pure Lockstep".

The event will be held at Uppsala saluhall. After the panel discussion, we mingle with delicious food and drinks. The event is primarily for Uppsala students and will open up to students from Stockholm University in case of availability. Come and learn more about the journey at Mannheimer Swartling!
When? Tuesday, 24th October, 17.30-21.00
Where? Uppsala saluhall.
Food and drinks will be offered during the event. If you have any specific food preferences or allergies, please let us know when signing up.
Please observe that the event will be held in Swedish.
The places are limited for female and non-binary business students. Please note that you will receive a confirmation if you get a place at the event and that the confirmation may take a couple of days to receive. Also make sure to check your junk mailbox if you have not received any confirmation. If you have any issues with signing up, contact us at info@womenscareernetwork.com.

Please note that the registration is binding due to a limited number of spots at the event. If you get a spot and don't show, you will not be able to sign up for other events. If you are prevented from attending the event, please send an email to info@womenscareernetwork.com.