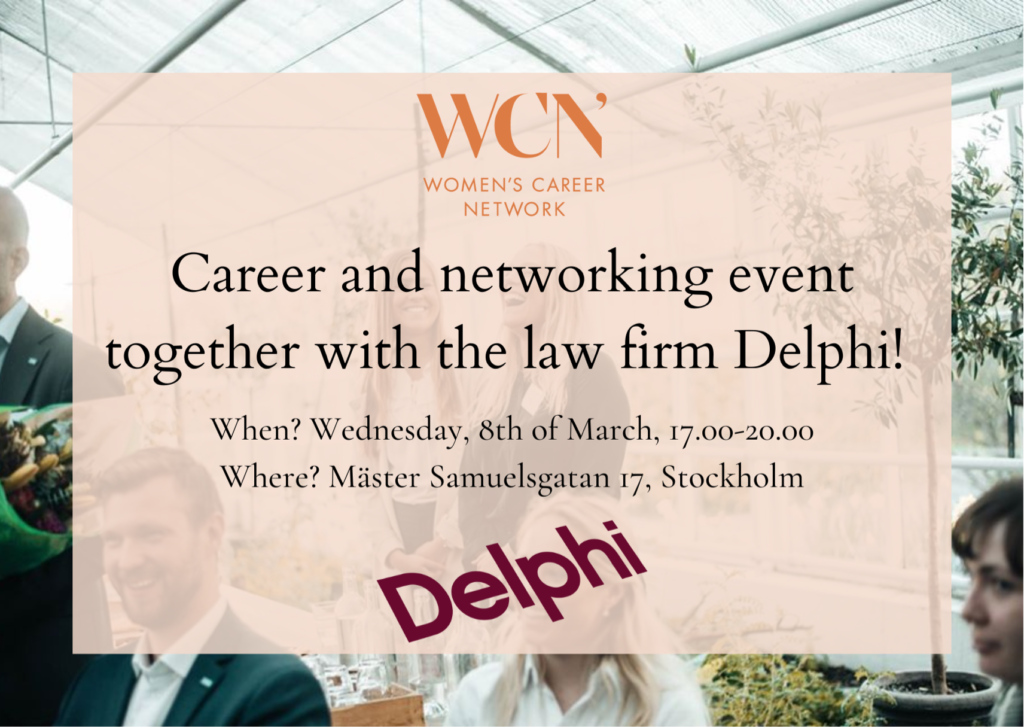 Women's Career Network warmly welcomes you on the International women's day to a career and networking event together with the law firm Delphi!

Delphi is a progressive business law firm with recognized specialists in many areas of business law. There are approximately 200 employees, of which more than 150 are lawyers. By crossing deep business understanding with new smarter ways of thinking, they tailor their service, expertise and offerings to their clients diverse needs. The offices are in Stockholm, Gothenburg, Malmö and Linköping.

During the event you will meet employees from associate to partner to give you an introduction to the company and tell you about their career paths. You will get a personal insight in their daily work, tips on how to improve your CV, balance between work and free time and tips for the interview process within the law firm.

You will have the opportunity to discuss with the employees and get insights about what it's like to work at Delphi. Come and learn more about Delphi and their culture and values in their office in Stockholm!
When? Wednesday, 8th of March, 17.00-20.00
Where? Mäster Samuelsgatan 17, Stockholm
Please note that the event will be held in Swedish.
Light food will be offered during the event. If you have any specific food preferences or allergies, please let us know when signing up. No later than one week before the event.
The places are limited for female and non-binary law students, first come first served. Please note that you will receive a confirmation if you get a place at the event and that the confirmation may take a couple of days to receive. Also make sure to check your junk mailbox if you have not received any confirmation. If you have any issues with signing up, contact us at info@womenscareernetwork.com.
Please note that the registration is binding due to a limited number of spots at the event. If you get a spot and don't show, you will not be able to sign up for other events. If you are prevented from attending the event, please send an email to info@womenscareernetwork.com.