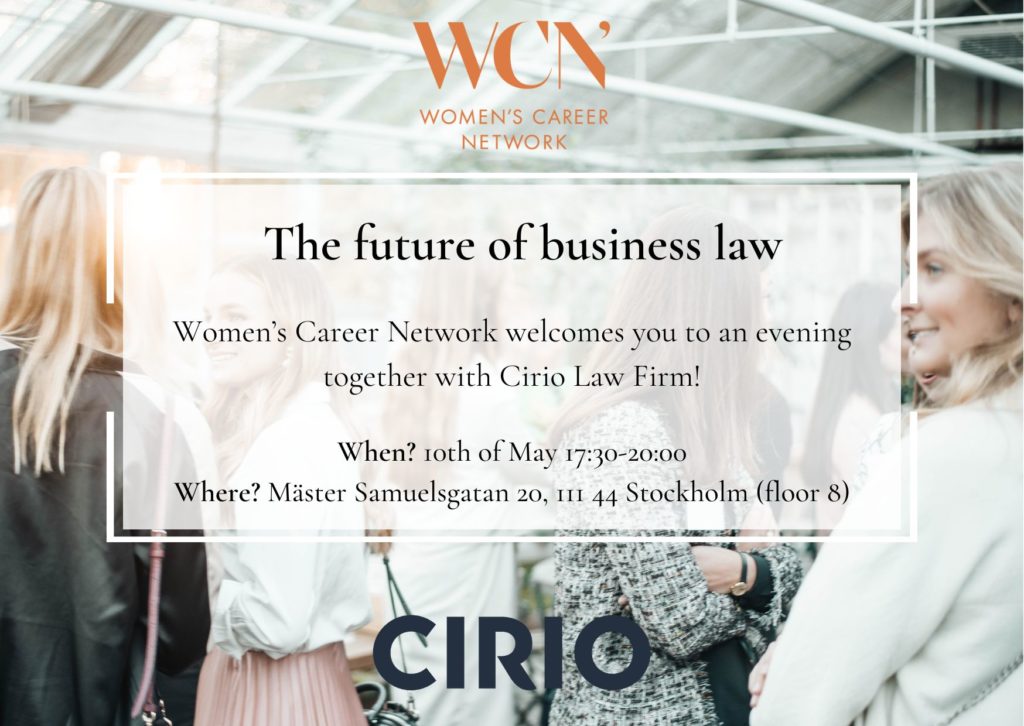 The future of business law – Cirio Law Firm
Women's Career Network warmly welcomes you to a career and networking event together with Cirio Law Firm!
Join us for an networking event at Cirio, a full-service business law firm based in Stockholm with 130 employees. Cirio assists both Swedish and international clients and has special expertise in several progressive areas and industries, including digitization, life science, renewable energy, and real estate.
During the event, we will delve deeper into these areas and explore the role of business law in shaping the future of these industries. You'll also get the chance to work on a case and experience what it's like to work in one of these areas.
Following the presentation, dinner will be served and you will have an excellent opportunity to learn more about the role of business law in these areas and to connect with partners and lawyers from Cirio. We look forward to seeing you there!
When? 10th of May 17.30-20.00
Where? Mäster Samuelsgatan 20, 111 44 Stockholm (floor 8)
Cirio covers train costs for the students coming from Uppsala. Please email us at info@womenscareernetwork.com. for further information about this.
Please note that the event will be held in Swedish.
Food will be offered during the event. If you have any specific food preferences or allergies, please let us know when signing up. No later than one week before the event.
The places are limited for female and non-binary law students, first come first served. Please note that you will receive a confirmation if you get a place at the event and that the confirmation may take a couple of days to receive. Also make sure to check your junk mailbox if you have not received any confirmation. If you have any issues with signing up, contact us at info@womenscareernetwork.com.
Please note that the registration is binding due to a limited number of spots at the event. If you get a spot and don't show, you will not be able to sign up for other events. If you are prevented from attending the event, please send an email to info@womenscareernetwork.com.